Web Counters
Website Visitors
Since
July 17, 2018

Visitors Today
Dec 10, 2019

National Weather Service Alerts for Westchester County, NY



The Official Website for the Bedford Village Fire District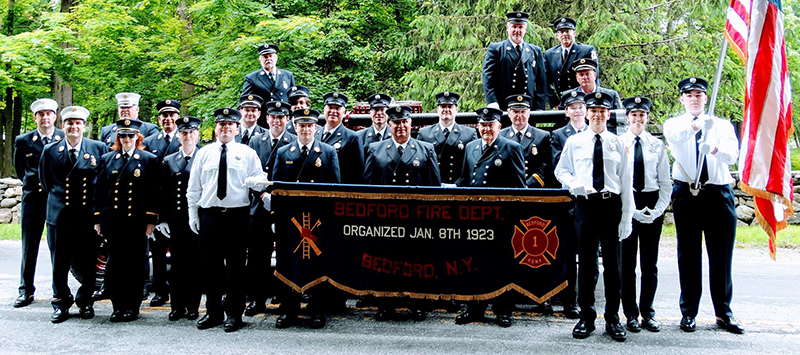 Bond Vote and Information Sessions Schedule: New Firehouse Project

November 27

The Board of Fire Commissioners for the Bedford Village Fire District has approved a community vote on a bond for the REVISED proposed firehouse/emergency services department to be held on Tuesday, January 14, 2020 from 6:00 AM to 9:00 PM in the Youth Room at the Bedford Presbyterian Church, 44 Village Green.

Click here for the pdf file of the scheduled Public Information Sessions to view or print:
... (Full Story & Photos)

Details of Annual Election for Fire Commissioner Seat

November 23

The Annual Election of the Bedford Village Fire District will be held on the evening of Tuesday, December 10, 2019 from 6:00 PM to 9:00 PM at the Bedford Fire Department at 34 Village Green, Bedford.

This Annual Election will decide a seat on the Board of Fire Commissioners for a 5-year term (Jan. 1, 2020 - Dec. 31, 2024).

Eligible to vote in this election are residents within the Bedford Village ... (Full Story)




Notice of Annual Election

November 06

NOTICE OF ANNUAL ELECTION
BEDFORD VILLAGE FIRE DISTRICT

PLEASE TAKE NOTICE that the Annual Election of the Bedford Village Fire District will take place on December 10, 2019, between the hours of 6:00 P.M. and 9:00 P.M. at the firehouse located at 34 Village Green, Bedford Village, New York for the following purpose:

To elect one (1) Fire District Commissioner for a five (5) year term commencing ... (Full Story)




Why Can't We Renovate The Current Firehouse?

April 14

We are land-locked in the Bedford Village Historic District.

• The firehouse is historic, as are the Bedford Free Library and the Lounsbery (Horse Connection) Building, and the Post Office, which wraps around the Lounsbery building and flanks our left rear.

We do not have room here to build an adequate station for our current operations, let alone future operations.

• Our lot is 1/3 of an acre, ... (Full Story & Photos)


Why the Redundancy in Emergency Services?

April 08

Yesterday was a busy afternoon for the Bedford Fire Department and all the surrounding departments. This is why we have 3 fire districts working together in the Town of Bedford:

Just before noon, we had an EMS call in Bedford Village that would require our first-due ambulance to transport a resident to Stamford Hospital. Then, at 12:31 an engine was called to respond mutual aid to Katonah for a gas ... (Full Story & Photos)



E-109 responded to Katonah on a gas emergency.


Two Ambulances Have Improved Our Service to Bedford Village

December 04

On a busy EMS day, simultaneous 911 calls required the Bedford Fire Department to respond with both ambulances. The first EMS call was covered by Chief 2042 and ambulance 52-B2. The second call, received 4 minutes later, was covered by Chief 2041 and ambulance 52-B1.

There have been numerous occasions to use both ambulances since expanding our EMS fleet. The Board of Commissioners is pleased that ... (Full Story & Photos)

The Newest Member to our Fleet

April 20

The Commissioners of the Bedford Village Fire District would like to introduce the newest member to our fleet of response vehicles! A very large thank you to the members of the Ambulance Committee who made this happen.

Today we took delivery of our 2018 Horton Ambulance. This will add a second ambulance to our fleet as we say goodbye to our mini attack because of space issues. At this time our department ... (Full Story & Photos)

---